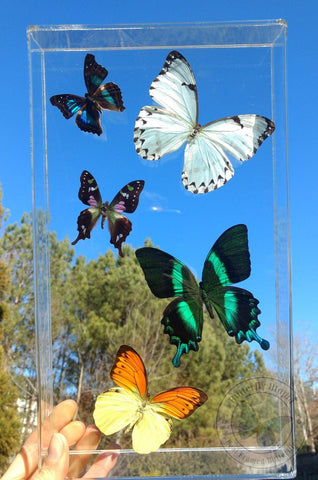 Custom Butterfly Display Species List - Guide to Choosing Butterflies
This page functions as a guide to selecting appropriately sized butterflies for our custom butterfly frames!
To order a custom butterfly frame, first, click on the product you are interested in. On each product page is a simple guide asking you to select certain sized butterflies. To order, add the product to your shopping cart and then on the first page of the shopping cart, type in (or copy/paste) your selections from the list below into the "Comments" box.
Your order should look something like this:
1. Buttercup (small)
2. Midnite Blue (small)
3. White Glider (medium)
4. Morpho menelaus (large)
5. Rice Paper Butterfly (large)
Sunset Moth (backup)
After typing in the names, proceed to checkout. No ordering or selecting butterflies is made from this page. Please note that some butterflies might be out of stock, even if they are listed as available. We will contact you if there are any issues. It's good to include a backup butterfly or two in case one selection is out of stock!
Some butterflies may have an extra fee. Please email or text us (see bottom of page) before ordering and we can create a custom link for the proper total.
Small Butterflies:
Medium Butterflies:
Large Butterflies: