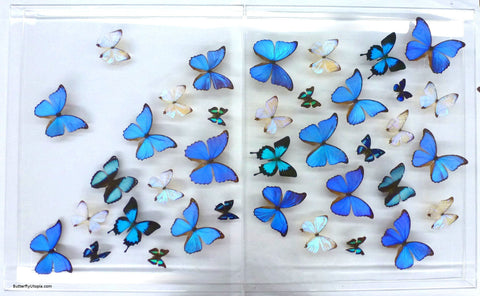 Blue Butterflies Flight - Two 18x28 cases
We offer so many beautiful blue butterflies that sometimes it's difficult to choose between them, so we came up with a display that shows them all off! Featuring an arrangement of pearlescent and iridescent blue butterflies, this display is made up of two cases that are 18 x 28 each (a total 28 inches high by 36 inches wide).
Note: The two cases pictured are actually a little larger than 18x28 (probably 20x30) so the display you would receive would be slightly smaller than pictured. Some of the large Blue Morpho didius (around 5.5" wingspan) will be replaced with the slightly smaller Morpho menelaus (around 4").