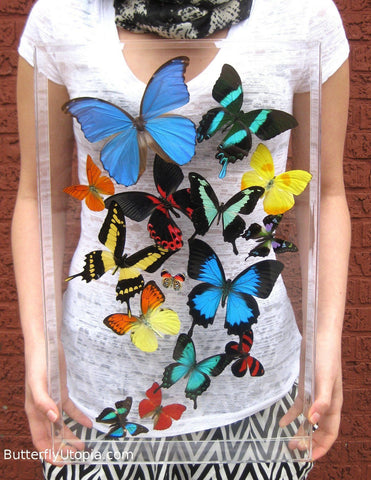 Flight of 15 Rainbow Framed Butterflies - 12x18 - 3D Acrylic Frame
If the Flight of 8: Rainbow display just didn't have quite enough butterflies for you, then you're in luck! Our Flight of 15 Rainbow has even more colorful butterflies for you to love, with seven more brightly colored, popular species such as the Blue Mountain Swallowtail & Red Scarlet Mormon are included. This case is 12x18, almost double the size of the Flight of 8 cases and 50% deeper, with almost twice as many butterflies. This allows us to use longer clear rods to balance the butterflies, creating a more three-dimensional display. The butterflies are not touching, they're overlapping! The case is sealed airtight, with a small hanger on the back.
Note: If you order two pieces we can custom build a second piece and mirror it (reverse the image); it looks great! Please request this in the special instructions section. If you would like this design in a different color format such as all green, all blue, "fire" (yellow, red, orange), black and white, rustic, etc., please contact us and we'll work with you!