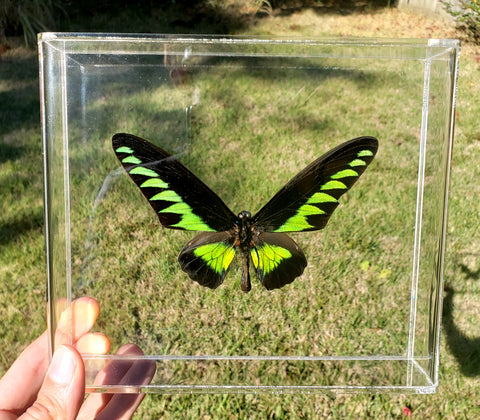 DISCOUNT RAJAH BROOKE'S BIRDWING - 8X7 - 3D ACRYLIC FRAME
Discounted:  Very minor chip of wing missing.  You will receive this EXACT piece.  
Normally $99 (save $45).
The Rajah Brooke's Birdwing (Trogonoptera brookiana albescens)
Wingspan: 5 - 6 inches
Origin: Malaysia
The national butterfly of Malaysia, the Rajah Brooke's Birdwing is a tropical treat for the eyes! The coloring of the Birdwing is reminiscent of a Green Macaw, sporting a wonderfully iridescent electric green, shimmering blue accents, and red "fur" around the head and body. Their wing shape is unique― when they're laid flat they look almost like a lustrous green and black feather! Bring in a bit of the rainforest with a Rajah Brooke's Birdwing!