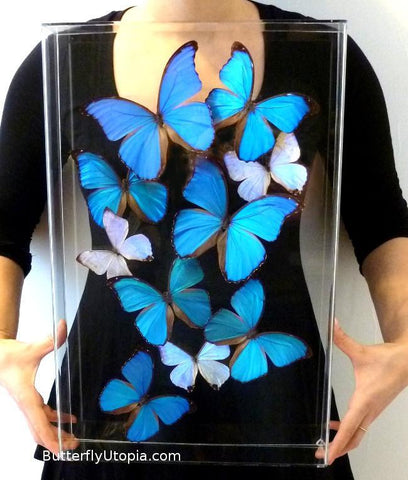 Blue Morpho Sky - 12x18 - 3D Acrylic Frame
The Blue Morpho Sky display shows off 10 lovely Morphos within an 12x18, 2.25" deep crystal clear acrylic case that's sealed airtight! There are 2 lovely large Blue Morpho didius, 5 wonderfully metalic Blue Morpho menelaus, and 3 iridescent Pearl Morpho sulkowski set in a lovely cluster-like formation. These butterflies might seem like they're touching in the photo, but they're actually overlapping! Each butterfly is mounted on a thin clear acrylic rod of various heights and angles, this way no matter which angle you view the display from you will see all the wonderful colors of the Morphos!
Note: The Pearl Morphos may seem a little flat in color in the photo, but trust us! These small beauties are so pearly and iridescent it's almost unbelievable!
We now offer an all blue option that replaces the pearl morpho with 3 similar sized and shaped Blue Morpho aurora.